Health and Safety Management System


OHSAS 18001:2007 certified since 2018
Zunt OHSAS 18001 Certified Occupational Health & Safety Management System covers all aspects of Occupational Health and Safety requirements.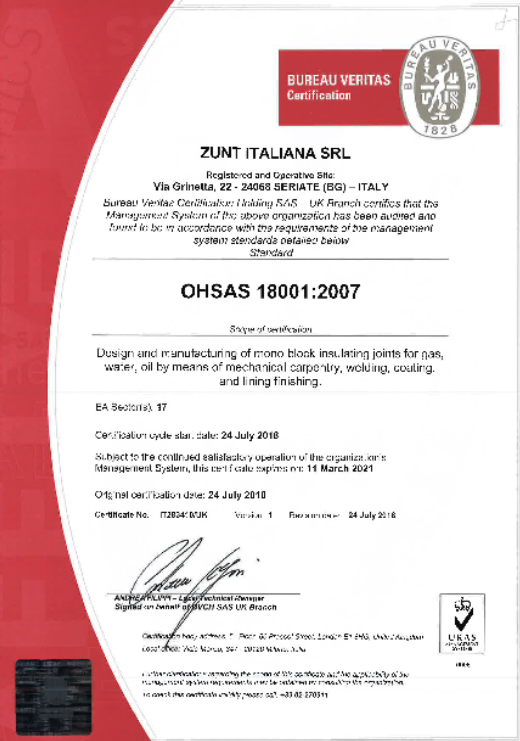 ZUNT Health & Safety Policy

In order to maintain high standards of Health and Safety protection within all its activities and to assure their continual improvement, ZUNT is committed to adopt an Occupational Health and Safety Policy based on the achievement of following main objectives:
Prevent from exposure to dangers in any areas pertinent to its activities on the basis of principle that all the accidents are preventable.
Act responsibly in full respect of environmental, health and safety Italian and European legislation, according to the provisions of OHSAS 18001:2007.
Protect the Health of its Employees as well as whoever may be involved or affected by its activities, in the optics of "ZERO ACCIDENTS".
Health and safety at work

Assuring a constant commitment to comply with all applicable legal requirements, with particular care towards Health, and Safety requirements.
Achieve Zero accidents or injuries, assuring a constant commitment to prevention of injury and ill health and to a continual performance improvement in health and safety management.
Assuring a constant commitment to comply with all applicable legal requirements and with the other requirements set out by the applicable technical regulations.
Providing adequate provision of human, technical and financial resources to achieve the defined targets.
Clearly defining the duties and responsibilities of all Employees with regard to health and safety.
Planning, implementing and ensuring an adequate level of training for all Employee and by maintaining active an effective communication system for all Health and Safety Issues.
Actively aiming to improve its standards in line with principles of present Policy.
Arranging periodical reviews (at least once per year ) to review and set health and safety objectives and targets.
Analysing occupational illnesses, accidents/incidents/near miss at work that may arise with identification of causes, as well as measures to be taken to prevent re-occurrence.
Identifying and assess at regular intervals the risks involved in individual processes performed inside the production unit, as well as those performed externally, in order to implement necessary modifications to the management system.
Involving all workers at every level to promote individual responsibility as regards the health and safety at work.
Arranging periodical audits to verify effectiveness of Health & Safety Management System.
ZUNT ITALIANA S.r.l. - Via Grinetta, 22 - 24068 Seriate - (BG) Italy - Phone: +39/035-30.39.82 Fax: +39/035-30.39.69 e-mail: commercial@zunt.com